Bill Eaton was an exchange student in Belgium and served in the United States Army before graduating magna cum laude from the University of Virginia. He won the Virginia Press Association award in 1978 for journalistic excellence while serving as News Editor of the Shenandoah Valley Herald in Woodstock, Virginia.
He had a distinguished career with the United States Department of State. He served overseas in Georgetown, Guyana in the immediate aftermath of the People's Temple mass suicides; in Moscow during the height of the Cold War during the premierships of Brezhnev, Andropov and Chernyenko; in Istanbul and Ankara, Turkey during the First Gulf War; and in Milan, Italy.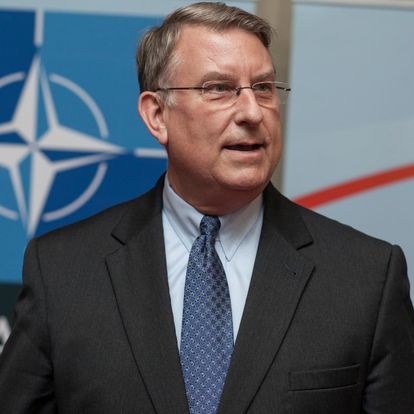 He speaks Dutch, Turkish, Russian, Italian and Spanish. He was the Dean of the School of Language Studies at the U.S. National Foreign Affairs Training Center.
Nominated by President Bush, Eaton served as Assistant Secretary of State for Administration throughout Secretary of State Colin Powell's tenure (2001-2005). He was responsible for delivering global support services to civilian U. S. Government employees in diplomatic missions at 260 locations around the world.
The U. S. Senate confirmed him as U. S. Ambassador to the Republic of Panama in 2005. There he negotiated the U. S.-Panama Bilateral Free Trade Agreement and was awarded the Order of Vasco Nunez de Balboa, the highest decoration for non-Panamanians for his significant contributions strengthening U. S.-Panamanian relations.
After his service in Panama, Ambassador Eaton was selected to be the Assistant Secretary General of the North Atlantic Treaty Organization (NATO) in Brussels, Belgium. Ambassador Eaton retired in 2013.
After his retirement from the Department of State, Eaton was elected Chair of the Board of American Field Service USA (AFS-USA), the organization that began his interest in international affairs when he was selected to live and study abroad for a year as an exchange student in Diksmuide, Belgium.